Mt Whitney hike
July 2000
In July 2000, I went on a hiking trip in the Sierra mountains in California to climb Mt Whitney. It's the tallest mountain in the southern 48 states at 14,498 ft and although it's not technical mountain climbing it's quite a strenuous hike to do in one day, since it involves a 22 mile walk and 6,000 ft gain in altitude. I went with a friend, John Lieberman, and some friends and work colleagues of his. Three of us - John, Yolanda and I - left San Francisco at 6 am on Wednesday morning so we could camp out at 8,500 ft for 2 nights before the hike, which was on Friday. It took most of Wednesday to get there - we drove up north to Yosemite (this might sound counter-intuitive, since Whitney is south of SF ... but there are only a couple of routes across the mountains and this one is very scenic), across Tuolemene meadows and through Tioga pass. The landscape is stunning - seemingly infinite granite slopes ground into vast sinuous sculptures by ice, sparsely covered by patchy pine forests. Even with the trees the overwhelming impression is of rock as far as the eye can see. After we got through the Sierra's we drove south to Whitney portal where we camped. John's radiator boiled on the way up to WP from Lone Pine, so we ended up driving the last bit with the heaters on full and all the windows open (it must have been ~30 C) - I'm just glad it didn't happen earlier!

View on Hwy 120 towards Yosemite and Half Dome (JL)

View of Mt Whitney from Whitney Portal - it's the smaller looking mountain in the middle (JL)

On Thursday we walked up the Whitney trail for 2 1/2 miles switch-backing across a steep slope up to Lone Pine Lake, which is as far as you can go without a trail pass. The lake is an incredible blue-green and is bounded by a pine grove on one side and a glacial moraine line on the other acting as a dam wall. We walked around the lake and had lunch on the edge overlooking the valley. Facing the other direction we could see Thor Mt and Wotan's Throne and views of Whitney crest (although not the peak itself). It's very spectacular, and the day was incredibly clear and sunny, so we kept our fingers crossed that Friday would be the same.

Looking down towards the Great Basin Desert from the trail up to Lone Pine Lake (JL)

Lone Pine Lake

Lone Pine Lake looking towards Whitney - Thor Mt and Wotan's throne are on the right, Lone Pine Peak on the left. (JL)

The rest of the group (10 in all) arrived Thursday evening, and we saw half of them in the pizza/pasta place down in Lone Pine - carbo-loading for the walk the next day! We got up at 4 am to break camp and started on the trail just before 6 am. The weather was perfect all day, despite reports of possible thunderstorms, and we couldn't have had a better day - very clear and sunny, with only a very gentle breeze. The whole walk is incredibly scenic and the trail is very good - well graded and not too steep (it does a LOT of switchbacking). We did pretty good time up to Lone Pine lake - 1 1/2 hours for the first 2.5 miles of the hike. The trail is flat for awhile after the lake and then winds up around a rocky slope and down to Big Horn meadow - a verdant grassy bog in a rocky bowl, criss-crossed with streams. Pretty soon after that you pass through Outpost camp, which is in a pine grove with a stream running through and a waterfall nearby - very idyllic!

6 am at the trail head - Tim, Yolanda, Dennis, Frank, Barbara Ann, Helen, Dianne (behind), Linda, Ed and John (kneeling) (JL)

Big Horn Meadow

After climbing another ridge we got to Mirror lake at the foot of Wotan's throne - another incredible aquamarine alpine lakes surrounded by groves of pines.

Wotan's Throne (JL)

Mirror Lake

A tortured pine tree

After Mirror lake you climb up a granite ridge and leave the tree line - the path is pretty exposed here and I was very happy to be slathered in sun screen, wearing a hat and sunnies even though it was only 8:30 am since the granite fiercely reflects the sun. For awhile the trail runs alongside a stream with a gorgeous meadow covered in grass and wildflowers, then it climbs steeply again up around another granite ridge passed Lake Consultation. After this there's virtually no flora to be seen

Consultation Lake (JL)

although there are birds, squirrels and marmots ... god only knows what they live on! The next camp - Trail camp - is set in a rather bleak lunar landscape, although it is next to a rather gorgeous green lake (but don't drink the water without filtering/chemically treating it!). We got here at 9 am and stopped here for lunch and to get some more water. By this time our group had spread out alot and I was hiking with John and Barbara Ann and Ed (the couple who organised the trip). They had brought 4 walk-talkies and Ed was very good at keeping track of where everyone was.

John and I left Trail camp around 9:40 am about 20 minutes after BA and Ed, since I wanted to pump more water (and digest lunch). The next part of the trail is the dreaded 99 switchbacks up around Mt Muir to Trail Crest - after all the dire warnings of how bad this section is I didn't find it too bad, although it is at about 12,000 ft so you really start to feel the effect of the altitude. But the trail is carefully designed not to be too steep, so you just have to pace yourself and keep going. I got into a good rhythm, and at this point I left John behind and even caught up with Barbara Ann and Ed. Along the switchbacks you get incredible views down the valley back towards the start of the trail.

View from the switchbacks - Consulation Lake is at the right, Trail Camp bottom left and Lone Pine Lake just visible at the centre.

Once you reach Trail Crest, which is at the top of the Whitney ridge you can see over the *other* side of the mountain towards the John Muir wilderness - the views are just stunning - lakes, forests, and rank upon rank of mountain ranges fading off into the distance! Since the crest is only about 3 metres wide at this point you really feel like you're perched on top of the world. The trail continues along the narrow top of the Whitney ridge. Mostly the views to the right (looking back to the start of the trail) are blocked by big triangular ridges of rock, but you pass by a couple of "windows" along the way, which allow you to look down both sides at once. I walked VERY carefully past these - fortunately I didn't get vertigo, although I don't know how I would have coped if it had been windy! I actually thought this would be a relatively "easy" part of the walk (in comparison to the switchbacks) but the trail is still quite steep and you have to really concentrate on your footing, since although the trail is good, it's not very wide and the penalty for falling off is rather severe.

Trail Crest - yay! (JL)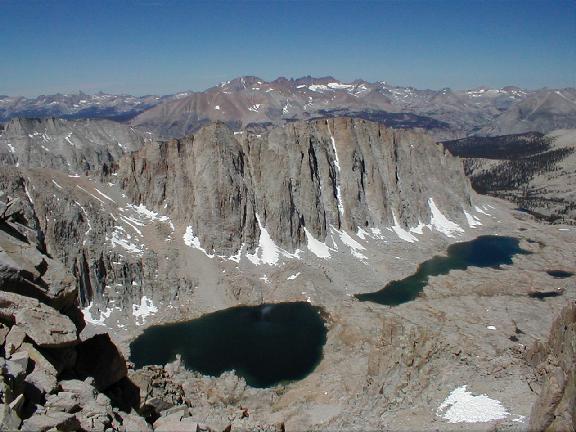 Hitchcock Lakes with Hitchcock range behind, from Trail Crest (JL)

Summit is in view, but still a ways to go - this was the hardest part for me!

I found the last mile or so to be the worst, since the summit still looks so far away and you can see the last steep 300 m climb to the top (with little tiny people crawling up, like ants)! But of course by that stage I was determined to make it, and once I was on the slope it was just a matter of continuing to put one foot in front of the other. In fact I felt physically pretty good (just a tiny headache) once I reached the top, and obviously I was completely elated! I got there at 1 pm and I was 3rd out of our group of 10 (8 out of the 10 ended up summitting). Barbara Ann and Ed were about 1/2 hour behind me and once we'd done the group photos etc I was just about to start heading back when John turned up. He was NOT in good shape and in fact was really sick at the summit and had an incredibly bad headache - clear symptoms of altitude sickness. So once he had recuperated a bit Ed and I started walking him down.

The triumphal summit shot - with Barbara Ann!! (Ed)

John at the Lightning Hut on the summit of Mt Whitney

Strangely, once I started down *I* started to feel nauseus too - by then I'd been at the summit for 1 1/2 hours and I think the altitude was getting to me, so I left John and Ed behind in order to drop height as quickly as possible. By the time I was half way down the switchbacks again I was feeling alot better, although still not 100 % (I'm sure some of it was just from the exertion). Back at Trail camp I met up with most of the rest of the group who were resting - they left while I was filtering some more water, and I was just about to head out after them when I ran into John. He still wasn't in good shape (although still plugging along) so I thought I'd better walk down with him. Since he needed to stop every couple of minutes to rest, it took us a quite a lot longer to get down than everyone else. In fact we just got to Lone Pine lake when it got dark, so we had to pull out the head lamps for the last part of the track, which made the going pretty slow. Yolanda, the other person in our group, summited much later than everyone else - she got up there at 3 - but she managed to catch up with us on the last slope down so we all arrived back at the same time - 10 pm, 16 hours after we'd started!!

Back at the trail head at 10 pm - 16 hours after we started! (anonymous)

That night all 3 of us stayed at a hotel in Lone Pine, which was a great move - we all had hot showers and I went straight to bed and didn't move for about 8 hours. The next day I was in better shape than I expected - a few minor blisters, a bruised toenail and stiff knees were the extent of my injuries.

It was an amazing experience, and although on the way down I swore I'd never do it again, I now think I could be persuaded to go back! Although next time I think I'd prefer to camp at Outpost and/or Trail camp for a couple of nights on the way up. As well I think I'd take more power gels - I didn't really feel like eating much solid food - and definitely not stay more than 30 minutes at the top. And I'd like to take more photos - I didn't want to stop and break my rhythm on the way up, and on the way down I was feeling ill and just wanted to get to the bottom!
---
Photos marked with JL were taken by John Lieberman with a Digital camera
The rest of the photos were taken by Helen Smith with a Nikon FM and scanned unless otherwise noted